The TOPS at SPAR Wine Show – SA'S LEADING WINE EVENT IS RETURNING TO CAPE TOWN & IM GIVING AWAY SOME TICKETS!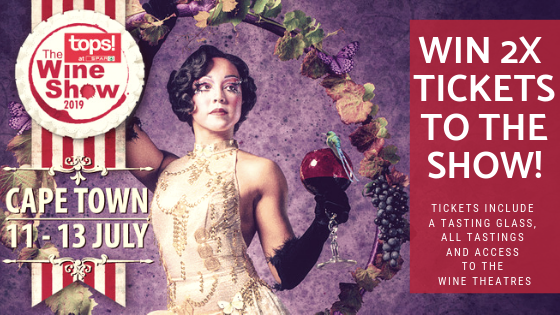 A glorious pourformance awaits wine lovers, as the TOPS at SPAR Wine Show returns to Cape Town for the third time! Join us for a GRAPE night out at GrandWest, South Africa's largest entertainment destination – you'll blend right in.
The show offers wine enthusiasts an opportunity to learn about wine varietals, wine-making processes, wine pairings and so much more.
Thursday 11 July: 5pm – 9pm
Friday 12 July: 5pm – 9pm
Saturday 13 July: 3pm – 9pm
All tickets include a tasting glass, all tastings and access to the wine theatres.
To ENTER and stand a chance to Win, simply follow the steps:
TICKETS:
VIP Lounge – R495 includes glass of premium MCC and amuse-bouche upon arrival, 4 x exclusive wine and food pairings, limited bar including boutique wine selection, glass of noble late harvest dessert wine and dessert pairing, corporate gift, courtesy of Core Catering and complimentary Platters Wine guide. All General Admission ticket items included. Valued at R870!
Couples Combo – R385 includes 2 x General Admission tickets, 2 x tasting glasses, Show Guide, Access to Wine Theatres, Unlimited tastings and six-pack of glasses compliments of Core Catering (valued at R199). Valued at R570!
General Admission – R185 includes 1 x tasting glass, Show Guide, Access to Wine Theatres and Unlimited tastings
SIP 'N SHIP
The Sip 'n Ship offer is a FREE shipping service for customers to have their purchases couriered directly to their home, with no additional cost! There is no limit to the amount of cases a customer can have shipped, and it only applies to cases purchased at individual wine farms, not mixed cases from different farms.
#DRINKSMART
The TOPS at SPAR Wine Show's #DrinkSmart programme, presented by Jiguja, promotes responsible alcohol consumption and safe driving practices at our event. We have a number of safe, convenient and affordable choices that have been implemented by the TOPS at SPAR Wine Show, allowing guests to "Drink wine but stay fine!".
GoodFellas is South Africa's premier "Chauffeur Drive" service and our #DrinkSmart founding partners, they will provide members and non-members with the option to "take the smart way home!". They will be at each show to transport our visitors home in the comfort of their own vehicles, free of charge! For more information click here.
JIGUJA is the DRINK to DRINK when you DRINK. People all over the world can now kiss their boozing blues goodbye. A tasteful and fun-filled health boosting tonic containing many effective natural herbs, spices and mellow natural sweeteners, JIGUJA relieves hangover symptoms effectively and also provides many other collateral benefits to your health.
If you want to party harder naturally, or just need to get rid of that hangover, JIGUJA is the drink to have on hand.
For more information, please visit our website